SimVimX plugin and RSC Firmware Installation
Plugin Installation: add the SimVimX plugin to your X-Plane as any other plugin. Just extract the SimVimX zip file as-is to X-Plane's "Resources/plugins" folder. The new menu item "SimVimX" will appear in X-Plane's Plugins menu. Supported systems: Linux, Windows, OSX.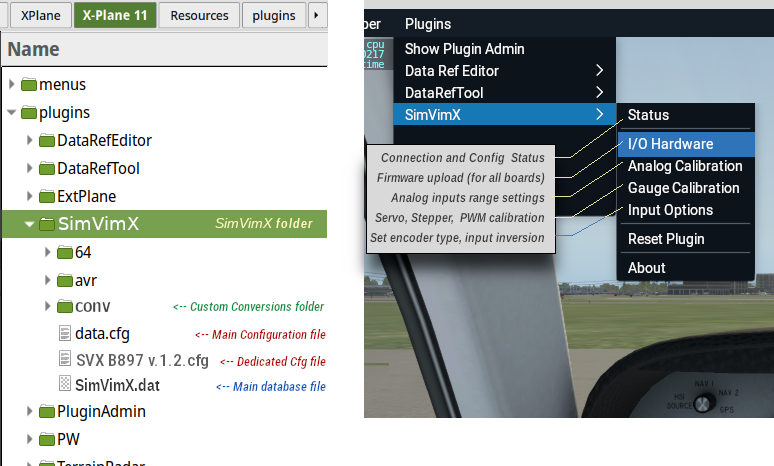 The status window shows the connected SimVimPanel instrument modules and connection status (you have to select to show the Status window):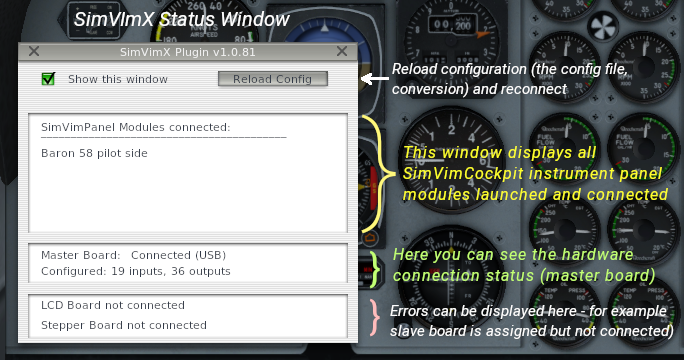 ---
Download
- (please use the latest versions to avoid problems with your working configuration).
The latest database file (SimVimX.dat) is always included in the plugin archive, but note that it can be updated frequently, even if the main SimVimX plugin has not been updated to a new version. Always replace older SimVimX.dat file in the plugin folder with the latest one. It includes all predefined parameters, the "embedded" conversion data for some planes, name auto-correction list (to replace old parameter names with new ones), etc.
---
Current SimVimX version (Plugin and database file), all systems
SimVimX Plugin - v2.19
14 Aug. 2023
Latest database file (can be included in the plugin archive above)
SimVimX.dat
05 Sep. 2023
Experimental plugin for Apple Silicon (aarch64-macos)
SimVimX Plugin - aarch64-macos beta

Latest changes overview

Full Versions History
Installation

Note: X-Plane 12 Mac users with Apple Silicon processors can use the beta plugin archive for aarch64-macos above. Requires additional files from the main archive. Currently does not check for updates online.

Plugin Update: Extract the new SimVimX zip file as-is to the X-Plane plugins folder and confirm the files replacement. Don't delete anything from the SimVimX plugins folder before update, as it contains your created data.cfg file and the devices.prf file that keep all configuration and settings! Note: if you have the older vesrion in the "SimVim or HCSCI" folder, delete that folder (or you can extract the new SimVimX version to that folder and then rename it to "SimVimX")
---
RSC FIRMWARE for Arduino
All hardware connection and configuration details can be found on the RealSimControl pages.
Firmware Installation
---