SimVimX - Download/Install
Download SimVimX plugin
NOTE: always use only the latest program version, do not miss multiple updates, keep it up to date to avoid problems with your working configuration.
Download SimVimX
Version / Update
Date
Current SimVimX version (plugin and database file)
SimVimX Plugin - v2.09
24 May 2022
Latest database file (also included in the plugin archive above)
SimVimX.dat
26 May 2022
Full Versions History

Latest changes:

---

If you are updating from plugin version 2.02 or earlier and using RealSimControl with LCD or Stepper extension boards, make sure to update their firmware.

Added custom model-independant functions for some of the electrics displays.
Modified the Trim_Motor functions for higher compatibility with some custom aircraft models. Some related internal changes in the handling of custom SimVimX functions.
Changes in the plugin's handling of parameter database structure, removing some deprecated elements and adding support for new keyword synonyms.
Added support for reassigning aircraft system types in conversions.
Calibrated throttle "Idle" position is ignored for aircraft models that do not have it (ensures correct work of the calibrated analog input when switching to aircraft with a different throttle type, provided that different systems are specified correctly for each aircraft).
Fixed a bug with LED Matrix on MAX7219 not being configured correctly (after the connection protocol rework).
Fixed one of the older complex conversion functions (used in some internal conversions) incorrectly getting discarded by newer conversion error detection (noticed in Laminar B737 electrics displays).
The latest database file (SimVimX.dat) is always included in the plugin archive, but note that it can be updated frequently, even if the main SimVimX plugin has not been updated to a new version. Always replace older SimVimX.dat file in the plugin folder with the latest one. It includes all predefined parameters, the "embedded" conversion data for some planes, name auto-correction list (to replace old parameter names with new ones), etc.
---
Plugin Installation: add the SimVimX plugin to your X-Plane as any other plugin. Just extract the SimVimX zip file as-is to X-Plane's "Resources/plugins" folder. The new menu item "SimVimX" will appear in X-Plane's Plugins menu. Supported systems: Linux, Windows, OSX.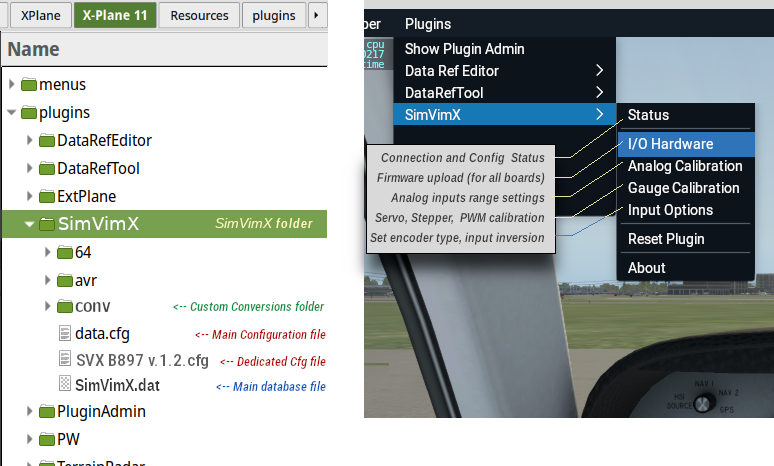 The status window shows the connected SimVimPanel instrument modules and connection status (you have to select to show the Status window):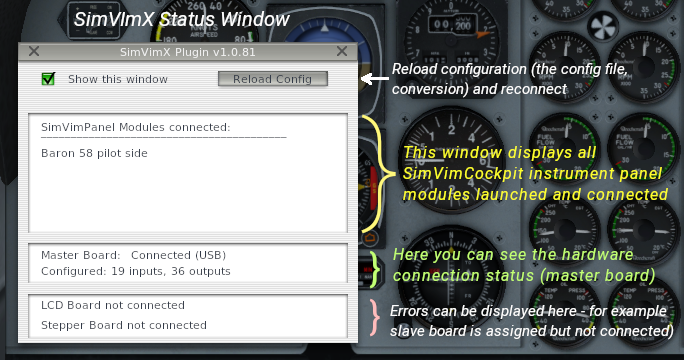 Plugin Update: Extract the new SimVimX zip file as-is to the X-Plane plugins folder and confirm the files replacement. Don't delete anything from the SimVimX plugins folder before update, as it contains your created data.cfg file and the devices.prf file that keep all configuration and settings! Note: if you have the older vesrion in the "SimVim or HCSCI" folder, delete that folder (or you can extract the new SimVimX version to that folder and then rename it to "SimVimX")
---
SimVimPanel program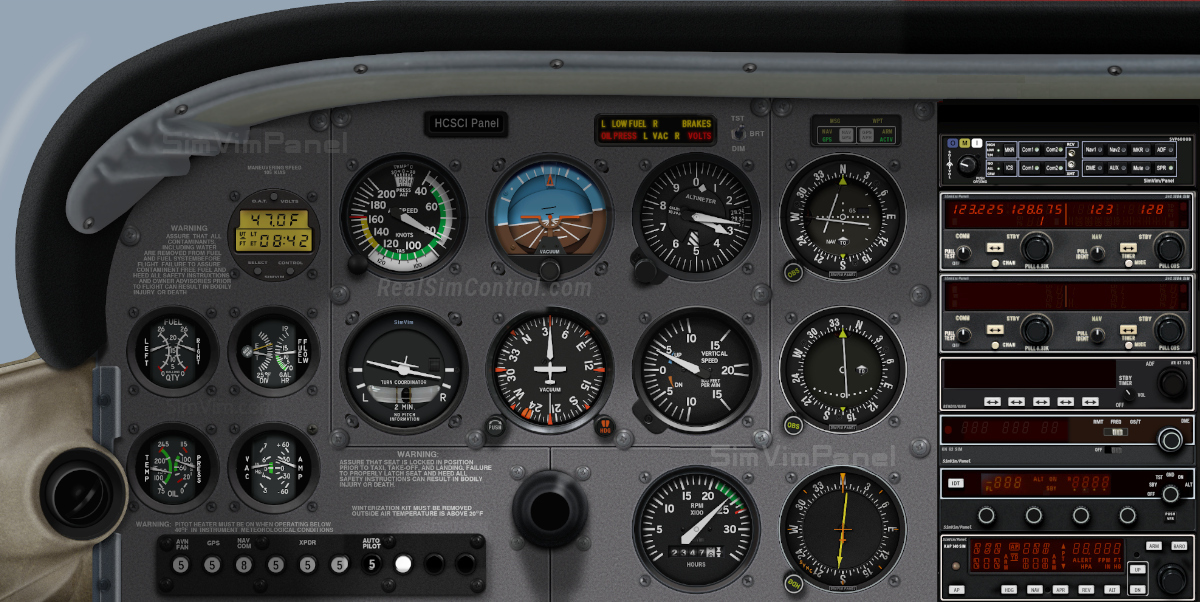 SimVimPanel is a standalone program providing a set of realistic, fully-functional aircraft instrument panels to be displayed on a computer that is connected by network to the main computer with X-Plane.

The program doesn't require a powerful system - any old PC with processor frequency of about 1000 Mhz can be used, or any mini-PC with a compatible OS currently available on market. Rasbberry Pi (any versions) is fully supported and can be used for any SimVimPanel.
Download SimVimPanel program here
---
Using SimVimX plugin with I/O Hardware
If you are using the RealSimControl hardware solution as your cockpit I/O interface, you need to upload the firmware code onto the "master board". The latest stable firmware is included in the plugin, a beta firmware can be sometime downloaded from the RealSimControl blog.
The RSC firmware needs to be uploaded to the master board from the plugin menu by the user just once at first time (If you have NO previously uploaded firmware).
First time Firmware Upload
Open the

"I/O Hardware"

window from SimVimX plugin menu (see the screenshot above).
Make sure the master board (Mega2560) is not connected to USB and click the "[Continue] button.
Plug the master board (Mega2560) USB cable into X-Plane computer USB port.
Click the button

>>

"Master" in the Firmware Upload section on the left. The [Upload] button will appear in the window.
When you see "Controller Board Connected" click

"UPLOAD"

. Wait until firmware upload is complete (about 3-5 s).

If you need to upload the Ethernet firmware version set the "Ethernet" checkbox before pressing "Upload".

After upload the plugin will connect to this controller automatically.
On successful connection you will see the messages "Master Board: Connected (USB/LAN)" and "Configured: 1 Input, 1 Output"
This means your board is working correctly, and you can start wiring all input controls and output devices to the controller and use the Configuration tool to assign all of them, but before you can run a simple test to make sure:
Load some standard X-Plane aircraft (Cessna or Baron 58). Connect a toggle switch to pin #5 / GND and flip it on/off.
The on-screen Pitot switch will change its position accordingly with your real switch. The on-board LED on the master board will change its state (Pitot Heat is on/off).
---
SimVimX Connection, notes
You need to upload the firmware only once, and never need to upload the firmware

to change I/O configuration. All you need to do for that is change your configuration file.
If you have changed the configuration "data.cfg" file while X-Plane is running, just click the "Reload Config" button in the Status window.
With firmware uploaded you no longer need to unplug your controller board USB cable before X-Plane launch.
The plugin should always establish connection automatically every time X-Plane is started, no matter how many times you have done it.
If you use Ethernet firmware instead of USB you don't need USB cable to be connected until you will need to upload a new firmware version.
You'll need an Ethernet module for communication if you use Ethernet firmware.
Note for Linux users: Some Linux distributions do not grant the user access to serial ports by default. In this case you need to add your user name to the "dialout" group (in Linux Mint, for example, this can be done via the Administration -> "Users and Groups" menu).

Reload Config button reloads all SimVimX configuration, it should be used when you have saved a new or edited data configuration file.

---

Firmware Auto-Update

The plugin checks the currently used firmware version on connection, and if it needs updating (the new firmwre file is presented in the plugin folder), the program uploads the new firmware to the board and then establishes connection. There's nothing more for you to do for the serial USB version.

For Ethernet version you need to connect your master board to USB (or reconnect it) and click "Upload" - just like during the first upload.




---