<<< SimVimPanel - EFIS84 displays
Download modules:
EHSI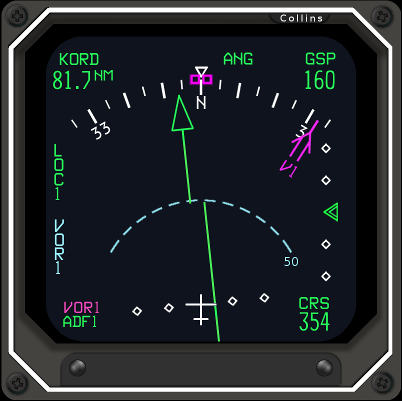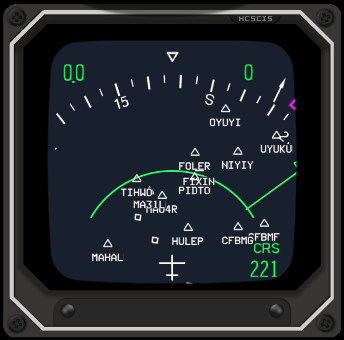 Controls:
All functions are controlled with parameters configured for SimVimX Plugin.
1. Arc/Rose mode switch
2. Single/Double bearing pointers (show relative bearing to selected NAVAID). These pointers can be turned on/off and have their navigation source switched.
- single bar bearing pointer (cyan). Repeatedly press and release the button to select navigation sensor (ADF1, VOR1). Selection is annunciated for 5 seconds in the lower-left corner.
- double bar bearing pointer (magenta). Repeatedly press and release the button to select navigation sensor (ADF2, VOR2).
To remove single or double bar pointer press and hold the respective button for more than 1/2 sec. To show it again with the previously selected sensor press and hold it again.
- Preset Pointer - dashed double bar (COURSE switch on the DSP in the PRE position).
- Switch between Active and Preset pointer for course setting control knob - or set the active course to the currently chosen preset course.
3. "NAV DATA" rotary switch imitation (on DSP panel) - switch between these modes:
GSP (ground speed)
TTG (time-to-go)
ET (elapsed timer)
Wind (direction, speed)
EFIS-84 is one of the older modules in SimVimPanel. Along with other similar display models, it is still gradually improved with new functionality.
Since version 4.14, EHSI now displays navigation fixes when "Map" mode is enabled. Since version 4.19, it also displays VOR, DME, TACAN and NDB markers.
EADI