SimVimPanel Simulation
Standalone external instrument panels
SimVimPanel is a standalone program providing a set of realistic, fully-functional aircraft instruments to be displayed on a computer that is connected by network to the main computer with X-Plane.
The system is built in such a way that any number of computers with different instrument panels can be connected to the main computer running X-Plane.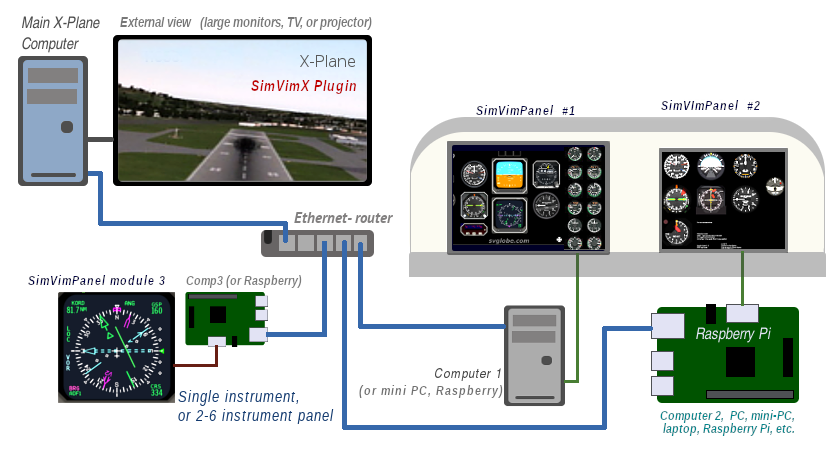 The program doesn't require any configuration on the user's part. Once you download our SimVimX plugin for X-Plane and run the program on another computer in the local network, they will connect automatically.
The instrument panels themselves are designed to accurately represent the functionality and positions of the actual instruments of specific aircraft. Every instrument is made as close to original as possible and has real sizes on the chosen LCD screens. SimVimX Panel is not a constructor, it's a set of a ready-to-use panels for specific aircrafts.
---
Features
SimVimPanel program is not a "constructor", it doesn't have a user interface or program for customization. However, there is already quite a large collection of instruments, and I can quickly customize any panel that uses these instruments, or can replace any instrument on an existing panel on request.
The program always displays every instrument in real size on any monitor by default. I.e. 3.125" (80mm) for major gauges, so instruments are not intended to have changeable size. You can change the whole panel position on the screen using the arrow keys.
Howewer, if you need to fit the whole panel on your monitor you can use the "Fit Screen" option (only usable for modules with included panel backgrounds) or specify a different screen size to control scaling. In the future I consider adding the possibility to move an instrument slightly to fit users cut-outs (without accounting for background).
---
The project is ongoing, and in time we will be making panels for more types of aircraft.
---
Download SimVimPanel program
NOTE: The base program includes only the "Basic Six" panel module. You can download the other panel modules separately from related panel pages or order a new panel module (will be available later).
In case one of the panel modules you use stops working after a program update, make sure the module file you have is up-to-date.
Installing
SimVimPanel doesn't require any installation procedure - just unpack it anywhere you want and launch it.
If you're using Linux or RPi and the program doesn't launch, check the file permissions to make sure it is marked as executable.
The computers running SimVimPanel need to be connected to the same local network as the computer running X-Plane with SimVimX plugin.
Options
By default, the program should detect your screen dimensions and scale the panels to be displayed in their real size. However, if the program doesn't detect your screen size correctly for some reason, you can set the screen width yourself in the program's main menu (click the box next to "Screen width", enter the correct number in millimeters, and press Enter).
The panel size option needs to be set to the default "Real size" in order for this to work. An alternative to this option is "Fit screen", which will cause the panel to be scaled up or down to fit your display. Note: this option doesn't work for panel modules without a background image.
You can read about more precise scaling customization and scaling for non-standard screen resolutions on Raspberry Pi here.
Hotkeys
These are the hotkeys you can use when the panel is running:
Arrow keys - move the panel. Use Shift for faster movement or Alt for precise movement. Press Enter to save the current offset, so that the panel will use it on the next load.
B - toggle background and bezels.
F - toggle fullscreen mode.
M - return to main menu.
Esc - quit the program.
---
System requirements
The program doesn't require a powerful system - any old PC with processor frequency of about 1000 Mhz can be used. For our Baron-58 one very old PC is used for full panel, a Celeron 1000 with an old Nvidia 5500 card.
The main requirement is that the graphics card supports at least OpenGL 2.0. Make sure you have the graphics driver installed.
A convenient way is to use an old laptop with additional LCD monitor connected to it. Here is an example of the "basic six" running very smoothly on Asus EEE PC 900 netbook (see the video below, it's taken from laptop screen with camera). Almost every old laptop has a VGA output, allowing the connection of a larger display, making for a rather cheap (and quiet) system. You can even connect it with wi-fi instead of a cable.
Getting an old computer from your storeroom or from online second-hand source can be even cheaper than using a Raspberry Pi (which also can be used with SimVimX Panel)
---